Meet Our Staff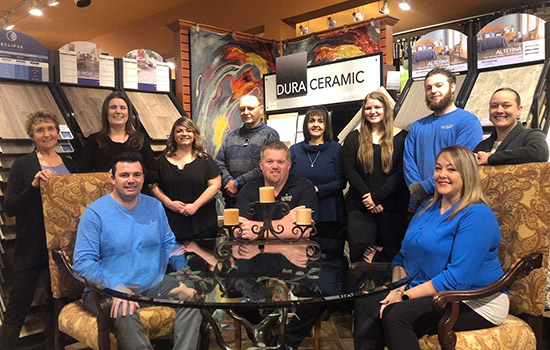 AT YOUR SERVICE - Over 200 years of Floor Covering Experience!
Mike Merriman, Matt Siegmund, Eowyn Teel, Cathy Siegmund, Danna Cvitanovich, Renell Cochran, Jantzen Lloyd, Nancy Tigue, Sydnee Siegmund, Brandon Moniz, Jaimee Savageau.
Matt Siegmund, Second generation owner & Store Manager.
Matt grew up in and around the business learning every facet before officially joining the Gardner team as a salesman in 1998, and then becoming manager in 2012. Matt welcomes the challenge of continuing the Gardner/Siegmund legacy of quality products, installation and service. In his free time he loves playing tennis at Eugene Swim & Tennis, shooting sporting clays at Creswell Gun Club, or fly fishing the McKenzie or Willamette Rivers.
» matt@gardnerfc.com
Cathy Siegmund, 'semi-retired' co-owner, financial officer & advertising.
» cathy@gardnerfc.com
Nancy Tigue, Office Manager, joined the Gardner team in 1987 as an office clerk but her many talents became apparent when we began to computerize the business in 1989. She was invaluable in helping everyone transition into the new technology. We finally persuaded to her become Office Manager in 1993 and she has become an indispensable member of our management team. Nancy is married to Johnny and is a proud Mom and Grandma. Her favorite pastimes are spending time with her family and traveling. "Over the years I've learned that floor covering is a very vast field with constantly changing trends. There is always something new and fun to learn. I've been blessed to work for one of the best families around, thank you Siegmund family for 32 great years!"
» nancy@gardnerfc.com
Jantzen Lloyd, Sales Associate, has 45 years' experience in home improvement & floor covering, 25 of those years with Gardner. Jantzen brings a unique talent for color and design, as evidenced by his National Award Winning photography. Jantzen is especially appreciated for his attention to detail and exceptional customer service. He is an active volunteer in a wide variety of community arts and service organizations. He also holds "Green" credentials of Certified Climate Master & Master Recycler, so you can rely on him to help you create "earth friendly" as well as beautiful rooms for your home.
» jantzen@gardnerfc.com
Danna Cvitannovich, Purchasing, Pricing & Inventory, loves organizing & uses that skill to coordinate mills, suppliers and freight lines to make sure every customer order moves smoothly from selection to installation. She has become our staff's personal Alexa with anything we want to know about products, pricing or delivery at her fingertips. She is a native of Eugene and graduate of North Eugene HS. Danna and her daughter Hailey love spending time with their recently adopted family dog, Mia. Hailey continues to enjoy volleyball on KIDSPORTS 6th grade team. Danna has been a vital part of Gardner since 2002.
» danna@gardnerfc.com
Renell Cochran, Inside Sales Associate & Reception
was on our staff from 2011 to 2014 when she left to be a full-time mother. We were delighted when she returned in September of 2018. A Eugene native with a great understanding for design and color, she offers a helping hand for customers who want extra guidance. She and her husband Jobee have "two wild boys" Colton 4 and Caleb 11, so she understands the importance of durability and enjoys helping you find the "right product" that will beautify your home and still withstand your household needs. In their free time she and her family enjoy camping, fishing, traveling and "almost anything outdoors".
» renell@gardnerfc.com
Eowyn Teel, Sales Associate
We were very fortunate when Eowyn joined our sales team in September of 2017. Her creativity, positive attitude and vast experience have made her a very welcome member of our staff. "Floorcovering has been a part of my life for many years. My knowledge base started while helping my father with ceramic tile installations as a teenager and has continued with years of retail experience in the flooring and window covering industries. I enjoy the challenge that each new project presents, and finding solutions for unique situations. My oldest daughter Anice, attends OSU, and my younger daughter Kiara is in high school. When schedules allow, we enjoy hiking many of the beautiful locations this area has to offer."
» eowyn@gardnerfc.com
Mike Merriman, Sales Associate
We are delighted to welcome Mike Merriman as the newest member of our sales team. Mike grew up in Prescott, a historic gold mining town in central Arizona. He attended Arizona State University, graduating in 2007 with a BA degree. While in college and afterwards he worked at Home Depot in their receiving dock and office. In 2010 he moved to California for greater opportunity and for the last three years has worked as a sales specialist/account manager for Royal Window & Door, a large ticket building material supplier. Mike recently moved to Eugene to be near family and friends and is excited to join the Gardner team and expand his knowledge into the flooring industry. In his free time he enjoys outdoor activities, whether it be hiking camping or fishing. He is an avid sports fan who enjoys preparing food while watching the big games."

We are impressed by Mike's positive, cooperative, attitude, his attention to detail and most of all his focus on providing excellent customer service by considering their expectations, needs, budget requirements and time constraints. We know you will enjoy working with him.
» mike@gardnerfc.com
Jaimee Sauvageau, Sales Associate
Jaimee grew up in Vancouver, Washington where she first began work manufacturing window coverings in 2000 at the age of 19 for "The Drapery Man". She gained firsthand experience making draperies, top treatments, custom bedding as well as repairing blinds and shades. In 2005 she moved up to designing and selling different varieties of window treatments. When the firm closed in 2013, Jaimee moved to Eugene to be closer to family and continued her career. We were very fortunate when she responded to our search for a sales associate and happily welcome her to our team where she will specialize in window coverings as well as adding our many flooring options to her design mix. In her spare time, Jaimee is an avid disc golfer and also loves camping and other outdoor activities.
» jaimee@gardnerfc.com
Sydnee Siegmund, Reception
We are very pleased to welcome Sydnee to our staff. A third-generation Siegmund, Sydnee is the daughter of former manager Scott Siegmund. She grew up spending a lot of time in and around the store. Sydnee graduated from Thurston High School in June and is currently attending Lane Community College studying business. She is also working part time for us in a clerical/reception position as well as assisting with our social media advertising.

We appreciate her eagerness to learn and the thoroughness and creativity she brings to every task assigned. In her free time Sydnee enjoys road trips, traveling in general, reading and spending time outdoors.
Brandon Moniz, Warehouse & Delivery
Brandon began working for Gardner in January 2018. Growing up in Walla Walla WA , he worked as a warehouseman, forklift and truck driver for carpet and building companies while attending Walla Walla Community College. At Gardner Brandon has taken the initiative to organize our warehouse to facilitate managing our inventory and supplies. He is timely and accurate in measuring, cutting and handling materials which are key essentials to the quality customer service we strive to provide. He has continued working online towards his Fire Science Degree, which he plans to use in the upcoming summer seasons.